***STATEMENT***
The National Weather Service Has Issued a Fire Danger Statement for:
Atascosa, Bandera, Bastrop, Bexar, Blanco, Burnet, Caldwell, Comal, DeWitt, Dimmit, Edwards, Fayette, Frio, Gillispie, Gonzales, Guadalupe, Hays, Karnes, Kendall, Kerr, Kinney, Lee, Llano, Maverick, Medina, Real, Travis, Uvalde, Val Verde, Wilson, Williamson and Zavala Counties
(A weather statement is an unofficial product issued within an individual National Weather Service Weather Forecast Office (WFO) area and is used generally for inclement weather falling below or approaching watch, warning or advisory criteria.)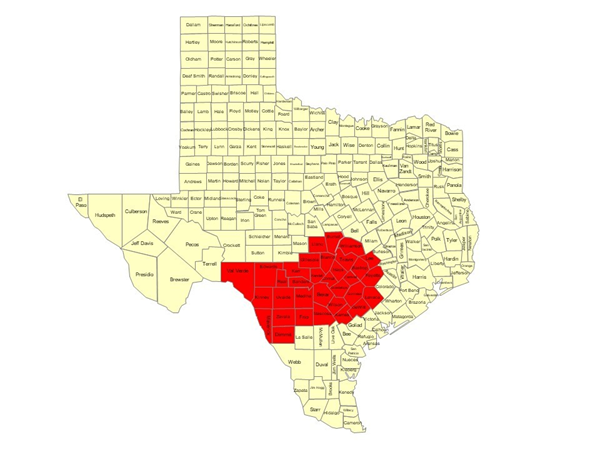 FIRE DANGER STATEMENT

NATIONAL WEATHER SERVICE AUSTIN/SAN ANTONIO TX 257 AM CDT THU AUG 4 2022 

NEAR CRITICAL FIRE WEATHER CONDITIONS EXPECTED… 
* AFFECTED AREA: ALL OF SOUTH CENTRAL TEXAS. 
* TIMING: FROM 2 PM THROUGH 8 PM. 
* WIND: SOUTH TO SOUTHEAST AT 10-20 MPH WITH GUSTS TO 25 MPH 
* RELATIVE HUMIDITY: 20 TO 40 PERCENT. 
* FUEL DRYNESS: DRY TO EXTREMELY DRY. 

FOR ADDITIONAL FORECAST DETAILS PLEASE SEE THE FIRE WEATHER PLANNING FORECAST ON OUR WEBSITE.  

PRECAUTIONARY/PREPAREDNESS ACTIONS…  

AFFECTED RESIDENTS ARE URGED TO EXERCISE CARE WITH RESPECT TO ALL OUTDOOR ACTIVITIES THAT COULD INADVERTENTLY CAUSE WILDFIRES.  

AVOID THE USE OF WELDING OR GRINDING EQUIPMENT NEAR GRASS AND DRYBRUSH.

IN ADDITION, AVOID PARKING VEHICLES IN TALL, DRY GRASS ANDWEEDS THAT COULD BE IGNITED.  

DO NOT TOSS CIGARETTE BUTTS ON THE GROUND.

REPORT WILDFIRES QUICKLY TO THE NEAREST FIRE DEPARTMENT OR LAW ENFORCEMENT OFFICE.